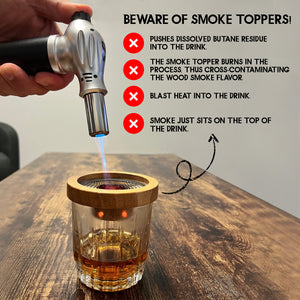 Smoke your cocktail the right way
Are you searching for a way to smoke your cocktails at home? Don't fall for those chimney smoke toppers you see on the internet!
Smoke toppers are a scam! Chimney toppers don't fully infuse your drink with smoke, instead the smoke just sits on top of the drink which loses its smokey flavor shortly after. The topper method of smoking a cocktail also blasts heat, butane, and chemically treated wood residue directly into your drink.
The Smoke Boards Kit offers a CLEAN and EFFICIENT method to smoke your cocktails at home the right way!
Watch the video below for a tutorial on how to fully infuse your cokctails with pure, untreated, natural smoke. Cheers!