A better way to smoke a cocktail.

DON'T DO IT!
Toppers AND the wood shavings can be sourced internationally when burned creates potentially harmful fumes.
Butane residue
heat
wood ash
get blasted into the drink.....GROSS!!!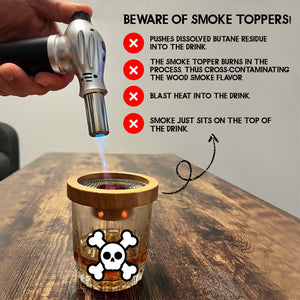 WE DONT KNOW HOW TO PUT THIS BUT...
WE'RE KIND OF A BIG DEAL.
Nice Gift -
Got this as a gift, great and easy to use. Better than the smoke toppers I have had before. The board, chips, and torch give a good sleek look with any bar. Nice overall product. Plus a nice bag is provided to bring it to places to show off to others.
- Elaine Fig
Arrived quickly -
Looking forward to putting a little special presentation in entertaining our friends! Very easy to use and glad it came with 3 different choices of wood chips
- Rob G
Fantastic product and customer service -
Thanks to Smoke Boards for making this really awesome product. Works as you would expect it to, and everything is neatly packed in a carrying case so I can take it with me to parties. Everyone who loves smoked cocktails should buy this kit!
- Dusty Womack
Smoked Margarita
Looking for a fiesta forward drink? This smoked margarita recipe will have your tastebuds doing the tango all night l...
Smoked Bourbon Bellinis
These Smoked Bourbon Bellinis are JUST PEACHY!  As tasty as this cocktail is, nobody will suspect just how simple it...